SMX: In your opinion, what will be the most significant change in 2018 when it comes to SEO that all marketers need to pay attention to?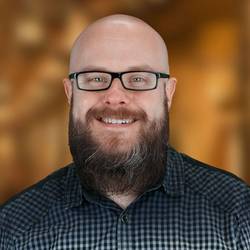 Greg Gifford: I think the biggest change will be the switch to the mobile first algorithm. We all know that mobile search has grown like crazy, but I really don't think many people understand how much things could change with the mobile-first algo. SO MANY mobile sites are pared down and hardly have any content, so it's likely that a lot of business owners will lose significant amounts of traffic if they're not getting their mobile sites ready.
I also think that we all need to pay attention to voice search and digital assistants. When we're speaking to the computer instead of typing in a query, how will searches change? How will results be determined when the assistant is reading off a single option? Will users adapt, or will their behavior necessitate a change in how the assistants work?
SMX: You always present a movie-themed slide deck. Can you give us a hint which movie you have picked for the SMX Munich crowd?
Greg Gifford: I'm going with comedy movies this time – mostly because I chose the theme based on what could fit with my title. There's no better "freak out" scene in any movie than the shot from Home Alone where Kevin's pretending to shave and yells into the mirror when he puts on the aftershave – so of course I had to go with comedies!
SMX: What is your all time ever favourite movie and why?
Greg Gifford: This is SO hard to answer, cause there are so many kinds of movies. You can't really compare a comedy to sci fi, for example. But if I really had to choose just one… I'd have to go by genre. For comedy, it'd definitely be either Ghostbusters or the Goonies (both are ridiculously funny, and still stand up after 30 years). For sci-fi, it would definitely be Aliens (no other sci fi movie comes close, except maybe Blade Runner). For action movies, definitely Die Hard (c'mon, anyone who doesn't agree is just wrong).
SMX: Which of the results from your last massive research project really surprised you and why?
Greg Gifford: We're still crunching the numbers/results on our current research project, so ask me again in another month or two! From our last study, the most surprising thing was that most people don't use UTM tracking codes on their links in GMB, which leads to ridiculously bad attribution (most clicks show up as "direct" instead)
SMX: Please explain to your 95 years old grandma what you are doing for a living?
Greg Gifford: So Grammy, you know when you go on the computer and type something into Google and you get a list of answers? I do things to websites to help them show up higher in that list on Google.
SMX: Thank you very much Greg! We are very much looking forward to your opening SMX Munich keynote.